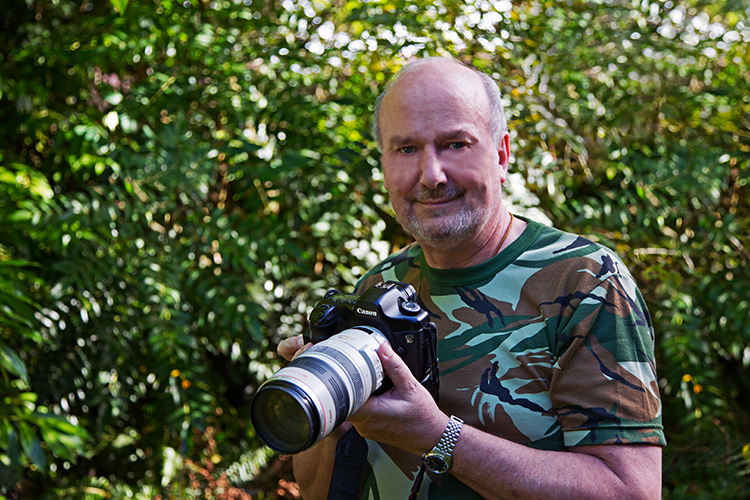 The Photographer - Peter Hobbs
I describe myself as an avid traveller, an enthusiastic wildlife conservationist and keen amateur photographer. Almost all of my spare time over the past ten years has been spent travelling around the far east where I've encounter a wide variety of exotic animals, birds and insects.
My hobbies (travel, conservation and photography) have enabled me, on many occassions, to have the privilege of having a very close and personal encounter with some of the animals.
I have a particular passion for cats, the big variety, and in particular the ones with 'bar codes' or 'spots' emblazoned on their fur coats. It is one thing seeing a tiger or a leopard a few feet away through a set of bars or a glass screen at a zoo, but when you are kneeling just inches away from that top predator, feeling its breath on your cheeks as you look through the view finder, with nothing between you appart from a camera. It can only be described as one of the most awesome and very sobering experience that you will ever have.
Although I've never received any formal photographic training, I put much of my success down to a great deal of trial and error in my early days of digital photography (something which I could never have afforded to do with film photography). I have also acquired a considerable amount of patience through observing animal behaviour and allowing the animals to gradually get used to my presence. I also openly admits to having more than my fair share of good of luck, and to being in the right place at the right time.
Many of my photographs have been used in zoos and wildlife centres within Thailand as static displays, visitor and educational literature and souvenirs (such as post card, calendars and tee shirts). Some of the photographs have also found their way into popular travel guides and brochures.
After retiring at the end of 2013, I subsequently left the UK and moved to Thailand to be with my wonderful wife Add, who thankfully also enjoys both travel and photography - although I'm not sure that she is over enthusiastic about being in close proximity to some of the wildlife.
Now having moved to Thailand, I have more opportunities to travel and hopefully shoot more wildlife - digitally that is - and these will be added to the collection for everyone to enjoy.
For the technically minded, I use a Canon EOS 5D Mark I and a 5D Mark III SLR.
I have a range of Canon professional lens including EF 50mm f1.4 lens for the close encounters, an EF 100mm f2.8L IS macro lens, an EF 24 – 70mm f2.8L. I also admit to having an EF 100 – 400mm f4.5/5.6L zoom lens, plus an EF 1.4x extender for long range work with snakes.
A Canon Speedlight 580EX flash and Canon MR-14EX Macrolite ring flash,together with a Manfrotto 190CXPRO3 carbon fibre tripod and a fluid head compliment my kit.
All of my photographs are taken in RAW format, this then enable me to have full image control when editing the pictures on the computer using Adobe Photoshop CS6 software, before eventually converting them into the jpeg format for printing or the web.
I hope that you enjoy looking at my photographs as much as I have taking them.
Please feel free to leave any feedback through the 'contact me' tab at the top of the page.